Op vrijdag, zaterdag en zondag 17, 18 en 19 oktober, telkens van 14 tot 18u ontvangen wij u graag in Rolands atelier. (klik hier voor contactgegevens)
Met dit jaar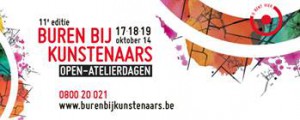 Grafisch werk en tekeningen van Roland  De Winter
Grafisch werk van Theodoor Kooijman
Gedichten van Erwin Steyaert . We zijn heel blij met zijn 'Sotternijen', een reeks gedichten die hij maakte bij Rolands 'oer-werk 'Het Boek der Gekken'. Op zaterdag én op zondag om 15u en om 16u30 zal hij uit zijn werk voorlezen, muzikaal ondersteund door Roland en door Joe Mullen, onze Ierse buurman. Een speciale editie in beperkte oplage van tien gedichten en tien tekeningen zal te koop aangeboden worden tegen € 95. Deze losbladige (lees niet: losbandige 😉 )map werd technisch gerealiseerd door het gloednieuwe grafisch atelier Inktopus
Van harte welkom!
Links:
Theodoor Kooijman
Erwin Steyaert
Joe Mullen
Atelier Inktopus
Meer informatie vindt u op de website van dit initiatief van de provincie West-Vlaanderen www.burenbijkunstenaars.be
On Friday 17th, Saturday 18th and Sunday 19th Oktober, from 2pm till 6pm , we welcome you in Rolands workshop. (click here for contact details)
With this year: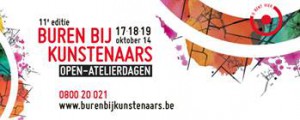 Graphic art work and drawings of Roland  De Winter
Graphic art work of Theodoor Kooijman
Poems by Erwin Steyaert. We are very happy with his 'Sotternijen ", a series of poems he made with Rolands' 'primal work ' 'The Book of Fools'. On Saturday and on Sunday at 15h and at 16:30h, he will read from his work, supported musically by Roland and Joe Mullen, our Irish neighbor. A special limited edition of ten poems and ten facsimile drawings will be offered for sale at € 95.
This loose-leaf  folder was technically realized by the brand new graphic studio Inktopus.
Warmly welcome!
Links:
More info about the initiative can be found on the website of the province of  West Flanders www.burenbijkunstenaars.be