On Friday 17th, Saturday 18th and Sunday 19th Oktober, from 2pm till 6pm , we welcome you in Rolands workshop. (click here for contact details)
With this year: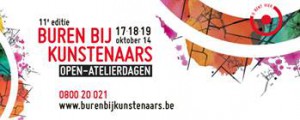 Graphic art work and drawings of Roland  De Winter
Graphic art work of Theodoor Kooijman
Poems by Erwin Steyaert. We are very happy with his 'Sotternijen ", a series of poems he made with Rolands' 'primal work ' 'The Book of Fools'. On Saturday and on Sunday at 15h and at 16:30h, he will read from his work, supported musically by Roland and Joe Mullen, our Irish neighbor. A special limited edition of ten poems and ten facsimile drawings will be offered for sale at € 95.
This loose-leaf  folder was technically realized by the brand new graphic studio Inktopus.
Warmly welcome!
Links:
More info about the initiative can be found on the website of the province of  West Flanders www.burenbijkunstenaars.be